Yay! Holiday time! Well, actually, one week of revising, but never mind. I have already chosen my jewellery of the day, based on what I plan to do this morning, which is bake some gingerbread cookies and (possibly) a cake. Introducing the Ready For The Oven novelty charm necklace from Penny Masquerade. Combining two of my favourite things - cakes and fashion - this design is absolutely adorable and a bit unusual too; well, who wouldn't want to stand out from the crowd. In fact, I might put on my gingerbread man hairband when I've finished writing this :)
Today's Old News Story is that, 57 years ago to the day, Edmund Hillary (who, by the way, looks a bit like Rob Brydon, don't you think?) and Tenzing Norgay were the first (known) people to reach the summit of Mount Everest- go them! Where does this fit in with biscuits? Well, Tenzing buried a selection of sweets and bisuits in the snow as a Buddhist offering to the Gods. Unfortunately, they were only able to stay for a quarter of an hour because they were low on oxygen, which would be a bit disappointing, wouldn't it?!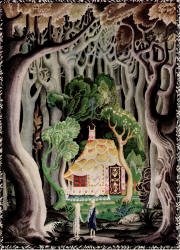 Finally, today's artwork is by on of my favourite illustrators, Kay Nielsen, whose fairytale pictures were my inspiration for my Hansel and Gretel art exam piece. I love the way the house looks so decadent and inviting and the trees, which are curled around it as though to point the way, look so evil in comparison. The delicate balance of subtle symbolism and literal interpretation of the Grimms' story is incredible; speaking of the Brothers Grimm, for those of you who haven't read the original fairytales, their original tales were much darker than the ones we hear today. When I was researching for my Art GCSE I found an amazing fairytale website with many of the original stories- hardly any would get published in our modern, PC society. I'll put the link below. You can find a selection of illustrations (including Nielsen's) there too. Right, I think I've spent enough time wittering on now so I'm off to revise maths.
Bye for now,
Rachel xxx
P.S.~ Here are the Links:
www.etsy.com/listing/47843930/ready-for-the-oven-gingerbread-men